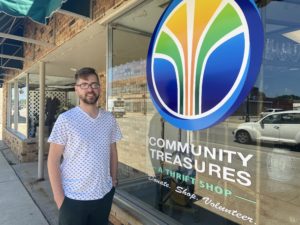 Learn more about Jordan Holcomb, who has lived in Galesburg his entire life:
What attracted you to the position? I worked in customer service for nine years, the last two as a manager. I'm just very comfortable meeting and talking with new people. When I interviewed, it just felt like a perfect fit.
What do you enjoy about the work you do? I really like being that friendly face when people come into the store. I want them to remember me, because if they had a good experience talking to me or dealing with me, they'll come back to Community Treasures. I like being able to provide that level of customer service and helping our volunteers learn to provide that kind of service.
What are you learning? I'm always learning in this kind of environment because there's always new stuff coming in or there's new volunteers. I'm either learning about new people or learning how to do things better.
Are there any interesting donations that have caught your eye? Not one thing specifically, but I'm flabbergasted by the amount of holiday stuff that comes in! The volunteers tell me that I'll be surprised by how quickly people will buy it up when we put it out. I'm looking forward to seeing what the holiday looks like here.
Community Treasures is located at 444 East Main Street, Galesburg, and is open Tuesdays through Saturdays. Follow us on Facebook and Instagram. Proceeds from Community Treasures benefit the Galesburg Community Foundation Impact Fund, which awards grants to nonprofits serving Knox and Warren Counties.