Jessica Riggs knows that a little change can go a long way. We might have an item that's been sitting on the shelf for three months," she said, "and by moving it or putting it in a different display, it'll get picked up that day."
As the newest manager of Community Treasures, the thrift store established in 1976 and run since 2004 as part of the Galesburg Community Foundation, she's excited to open the shop's next chapter and explore fresh ways of engaging the Galesburg community.
In the Q&A below, Riggs, who first came to Community Treasures as a volunteer and later returned as assistant manager, shares what she wants shoppers, volunteers, and donors to know—and what it means to her to be part of the Community Foundation.
What do you love about the Galesburg community?
We're good at coming together. I see people getting more and more involved in the community, and that's great to be a part of. I started a pantry movement here similar to those walk-up libraries but with items like hygiene products and school supplies. I put the first one up, and now it's really taken off.
Congratulations on the new role! What does a typical day look like?
That's a tough question! I do all kinds of things—book work, cleaning, pickups and deliveries, phone calls. I spend some of my time merchandising, changing our mannequins, and running the register. Then there's managing the volunteer base. Without our volunteers, we wouldn't have a store.
What are you looking forward to?
We're going to start offering more specials, for one thing. We'll have a thank-you special for teachers and anybody who saves lives—EMTs, nurses, other medical staff. We'll have a senior special day, a high school student special. At the end of the month, we'll run more specials to make things affordable for shoppers who can't pay full price. My hope is to get more people in our community into our store.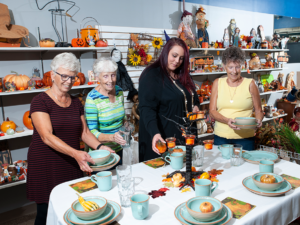 What do you want the community to know about Community Treasures?
People may not realize that this shop truly would not run without volunteers and donors. To anyone who wants to volunteer, whether you're in high school or a senior citizen, you're always welcome here, and we're a great organization to be a part of. To our donors—and our shoppers—know that your contributions mean so much to our community. The Thrift Store supports the many ways the Community Foundation improves the health of our region.
What does it mean to you to be a part of Galesburg Community Foundation and the work it does?
I wholeheartedly believe that giving is better than receiving, so it's awesome for me to be part of a philanthropic organization like this.