Through a partnership with Galesburg Community Foundation, the ROWVA Public Schools Foundation and the ROWVA School District, teamed up to fundraise for and build a new Chemistry Lab at ROWVA High School.
Learn more about how you can give to your community by emailing Josh Gibb, president & CEO, at jgibb@yourgcf.org.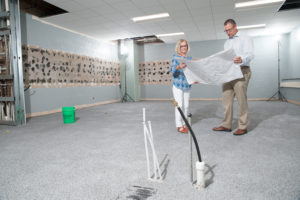 President & CEO of Galesburg Community Foundation, Joshua Gibb, said, "We were pleased to partner in this project because of its collaborative nature and our firm belief in the power that local philanthropy can have in rural communities such as ROWVA."
ROWVA, which stands for the towns of Rio, Oneida, Wataga, Victoria and Altona, is well known for its academic excellence and positive culture. And while ROWVA has many bright spots, one challenge the rural district faces are the enhancements needed to keep academic facilities on the cutting edge. While many improvements have been made over the past few years under Superintendent Joe Sornberger's leadership, the wish list of upgrades is not yet complete. One of those wish list items, critical to student success, is access to state of the art laboratories.
Thanks to the positive working relationship between the school district and the ROWVA Public Schools Foundation, Mr. Sornberger approached the organization about supporting an initiative to update the school's Chemistry Lab.
Mary Stiers, RPSF vice president and a retired ROWVA teacher said, "We learned that the Chemistry Lab had not been updated since the school was built, 65 years ago. With advancements in technology, we are recognizing that it is difficult to prepare students for labs they might work in during collegiate courses."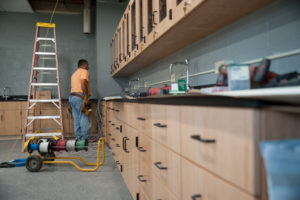 The plan to update the ROWVA Chemistry lab was ambitious and the need ever-present.
Mr. Sornberger said, "Over recent years, our students have captured titles in the Worldwide Youth in Science and Engineering (WYSE) Academic Challenge multiple times, and in 2018 were Regional and Sectional Division WYSE Champions. They placed in the top six in the state competition over the past three years consecutively. But despite this success, the feedback we received from our graduates indicated they were intimidated by state-of-the-art collegiate laboratories. The school district had to figure out a way to update the learning space."
The RPSF board agreed that an update to the lab was necessary and certainly fit within their mission to support and enhance the efforts of ROWVA students and teachers. The Public Schools Foundation board voted to pursue their very first capital campaign and pursued a partnership with the Community Foundation to help manage the charitable gifts and add a level of credibility for the people who were giving. The Community Foundation held the dollars raised, provided gift receipting and offered fundraising guidance to ensure a smooth campaign.
With the campaign plan in place, the RPSF committed $80,000 to the project and worked to fundraise from generous members of the ROWVA Community to meet the projected goal of $165,000.
Mary said, "We were thankful to have the $80,000 from our generous, annual dinner auction donors. This allowed us to get started. From there we started asking members of our ROWVA Community and our 50 year alumni club. The donations started flowing in. People were excited about the project. Almost everyone we asked said yes. Our donations ranged from $10 to $10,000. Every single donation mattered and now we're seeing this project come to life."
Joe said, "It is amazing how much support the ROWVA school district gets from our community. Every day we come up with more and more ideas and our community responds by asking how they can help. Thanks to our dedicated community, our new Chemistry Lab provides enhanced technology and accessibility for all students, allows for dynamic experiments, and will attract future Chemistry teachers for our district."
"Our school has a rich history of challenging our students to prepare them for life beyond the classroom. To continue ensuring our students receive the highest educational offerings, RPSF was proud to collaborate with the school district, the Community Foundation and donors from 19 states to completely renovate this lab. Its completion is a true testament to our generous community. I can't wait to see our students in action in the new lab this school year," Mary said.