Galesburg School District 205 has a goal of providing all students with a well-rounded education, no matter what barriers may exist.
Russell (Russ) Robb, Fine Arts Coordinator at Galesburg District #205, is a firm believer that a well-rounded education includes music education as well. Russ is always looking for ways to introduce more students to music and this year is pleased to welcome the addition of fifth grade band into the district's curriculum. However, with this Russ knew they needed more instruments to ensure all interested students could participate.
Making a connection with longtime resident and instrument store owner,Charlie Knapp, Russ learned that Charlie was wishing to significantly reduce his inventory. Charlie offered Russ the opportunity to purchase 83 quality, brand name, gently used instruments for just over $12,000.
To purchase all 83 instruments Russ knew he needed to reach out for support. He contacted Tiffany Springer, director of grants and programs at Galesburg Community Foundation. Tiffany pulled together a collaboration of funders to review Russ' grant application. Through conversation and collaboration with The Jack E. Larson Endowment Fund, the Galesburg On Track Fund, both funds at Galesburg Community Foundation, and the Galesburg Public Schools Foundation, a grant was made to the school district for the total cost of the instruments.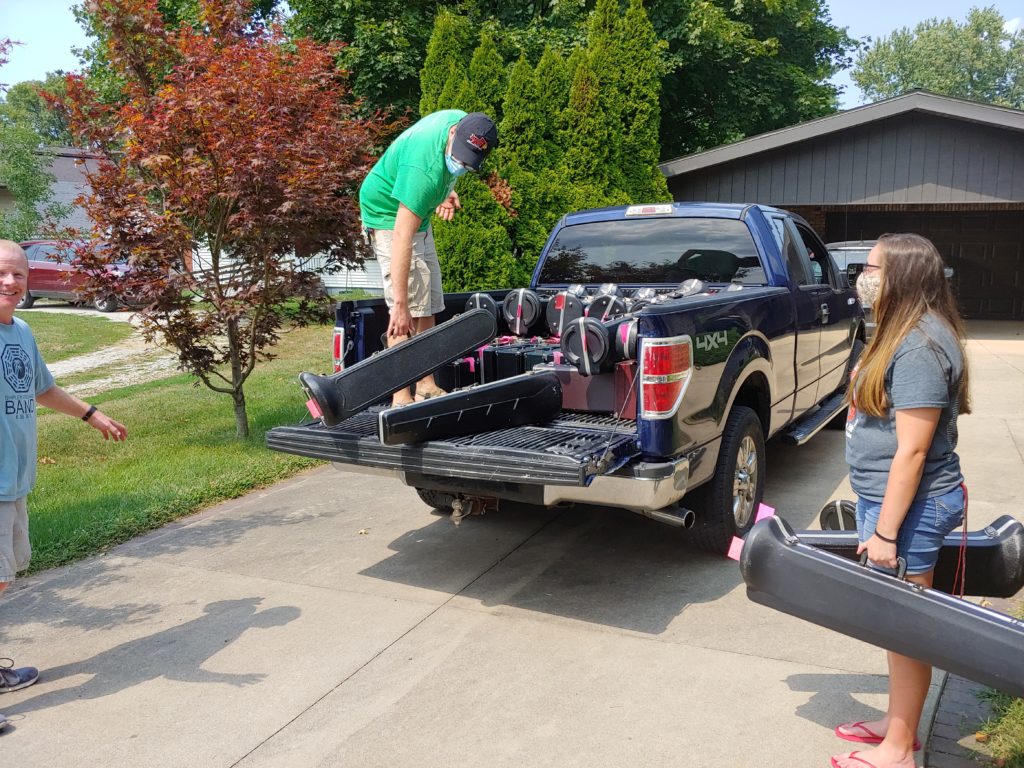 Tiffany said, "Through the generosity of these funds at the Community Foundation and generous committees that are invested in our communities, we were able to collaborate to not only support the efforts in acquiring 83 new instruments for the program, but fully satisfy the needed amount, leaving no burden for the program and no child without an instrument. We're thankful for connected community stakeholders like Mr. Robb, our generous donors and funds and fellow community funders, whose hearts and passions are expressed every day in grant opportunities such as this one."
The funding collaborators agreed that getting instruments into the hands of students was a priority.
Galesburg Public Schools Foundation is a longtime supporter of The Jack E. Larson Endowment Fund. Their Administrator, Teresa Baxter said, "The Galesburg Public Schools Foundation has been proud to support the Jack Larson Free Band Instrument program since 2011. Our Board of Directors knows how important it is for students to have the best educational opportunities possible, regardless of financial resources. Participating in enriching fine arts programs like band can have a lasting impact and offer new possibilities for the future, so we were very happy to be able to support Mr. Robb's grant request."
As education and arts and culture are also major priorities as identified through community conversations held by Galesburg On Track, their committee decided that partnering on the grant made a lot of sense. Karrie Heartlein, a volunteer with the Galesburg On Track Fund said, "Band helps children learn hard work, discipline, and teamwork. It also gives them the joy of camaraderie and competition. They learn to read music, to understand its nuances, and how to make their own music — something that can bring them pleasure throughout their lives. This project reflects many of Galesburg's cherished values: Quality Education, History & Heritage, Services & Amenities, and Great Things to Do, and so it was easy to support."
"I'm a musician so that's how I express myself and words fail me when I stop to think about how many people came together to help us acquire these instruments. Our community is passionate about the arts and they are willing to help us continue that legacy. This collaborative grant will enable a whole new group of students to experience music and the many ways music comes to life. From large ensemble, to small group and solo opportunities, concert, marching, pep and jazz bands and more than 350 active student musicians participating in over 30 events during a school year—these new instruments will be well loved and appreciated for years to come. And it's all thanks to a group of community members who came together to allow for more music to happen."
-Russ Robb, Fine Arts Coordinator at Galesburg District #205
To learn more about how funds at Galesburg Community Foundation are making a difference contact the Community Foundation team at 309.344.8898 or info@yourgcf.org.