Nancy Mowen is on a mission to make sure seniors in the region have access to nutritious meals that keep them healthy. "Every program we have is vital to our community and food—well, it is a necessity," said Nancy, who serves as executive director of the Jamieson Community Center.
The organization relies on the support of the community—and the Galesburg Community Foundation—in a variety of ways, including grants, professional development and a recently established endowment at the Community Foundation. The organization recently received a $6,000 grant to support the Senior Nutrition Program, which serves lunch Monday through Friday to seniors at five serving sites. The organization will serve an estimated 31,000 meals to 500 people this year.
"It takes a lot of support to do what we do," Nancy said, and they operate on fundraising, state and federal funds and community contributions. They opened an endowment at the Community Foundation in 2017 through a gift from Ron Shawler's estate to provide a stable, reliable source of funding. "We live in a community where the population is declining," she added. "But we know this is a wonderful community. The endowment fund is a great vehicle for people who love the community to invest in this place we call home forever."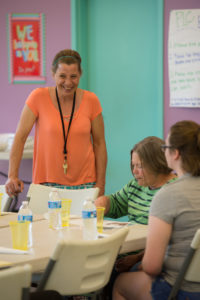 The Jamieson Community Center has grown in response to the needs of the community. The organization currently serves people in Knox, Warren and Henderson Counties. In Warren County alone, more than 4,000 people live at or below poverty. The county population is just under 18,000. "When basic needs aren't met, it's more difficult for people to realize their potential,"she said.
And the Jamieson Community Center—like Galesburg Community Foundation—is committed to helping all community members realize their best self. That's why the senior program is about more than meals. Seniors can come to the center to receive food, or have it delivered to their home. It is a source of support and strength.
"Because we offer meals, the people we serve also get socialization and camaraderie," Nancy said. "That contact is so important. For the home-delivered meals, we may be the only person they see."
It's also not uncommon that the deliveries have served as a health or safety check for a senior. "Just in the last two weeks, there were urgent needs that we were made aware of because of the meal deliveries," she said.
Nancy credits the support of the Community Foundation for helping her become a better leader. "Education is critical and needs to be ongoing, and that includes training for me," she said. "I love that the Community Foundation encourages professional development opportunities. I've taken advantage of lots of resources and opportunities they offer and it definitely has had an impact on the growth of our organization and the services we're able to provide our community."
"Their mission of a healthy community is very much in alignment with what we do," she said. "Galesburg Community Foundation lifts the level of all nonprofits in our area. It positively changes our community today, and forever."
One of the greatest joys of our work is partnering with people and organizations like Nancy and Jamieson Community Center to help them serve their community. Let's talk about how we can help you spread your generosity in the community you love. If you have a dream for your hometown, we're here to help you do that easily through your giving. Contact us at JGibb@YourGCF.org today, or give us a call at 309.344.8898.