Jodie Patterson is rarely without a skein of yarn in her hands. "It goes to the movie with me, on cruises, on the airplane," she says with a hint of pride in her voice.
Her devotion to the hobby is for a good cause. Jodie is currently knitting her 3,507 hat for children with cancer in five different hospitals. Her goal is to knit 10,000.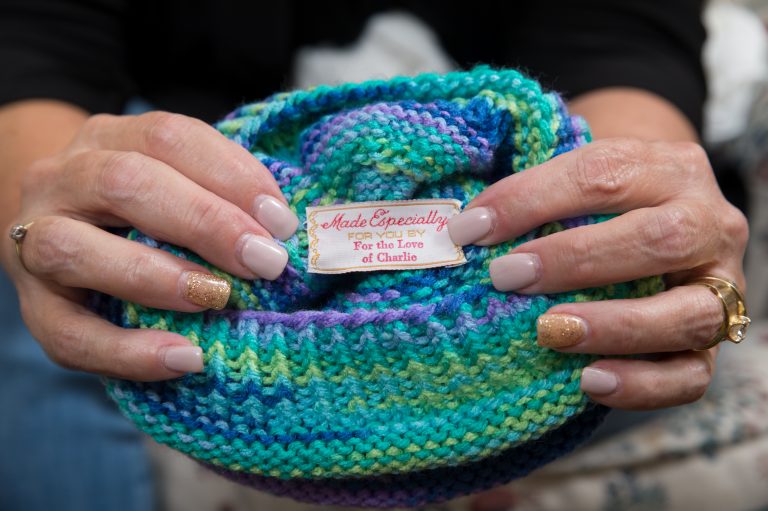 Jodie oftentimes finds her yarn at Community Treasures, the thrift shop owned by Galesburg Community Foundation, that provides a full circle approach to philanthropy. Generous community members donate gently used items, such as yarn, which can then be purchased. Any revenue earned through purchases at the store go directly into the Community Impact Fund that supports nonprofit organizations and community initiatives serving our region. The shop is also supported by community volunteers who do everything from processing the donations to cashiering.
For Jodie, the thrift store is the perfect place to donate and shop, something she has been doing for 10 years. "It's clean and it's nice," she says. "Their items are high-quality and everyone is always friendly."
And that's good to hear, because Jodie admits she's picky about her yarn. "It has to be clean and smell good. Those kids have enough problems," she says, and there's no way she's making them a hat with yarn that doesn't meet the highest standards.
In addition to hats that support kids in our region, Jodie sends the hats to hospitals as far as Atlanta and Omaha, where nurses and family members help the young patients pick their favorite. She's knit everything from dogs and cats to ghosts and witches and elves, covering the Halloween, Christmas and summer holidays hundreds of times over. One boy, she was told, received one of her hats that rolled down into a mask. He hadn't had anything to eat or drink for four days and was rarely out of his hospital bed. It was a surprise to the nurses when they found him playing one day, hiding in his room and wearing the mask.
"That made me feel so good," she says.
Every once in a while, she'll get a thank you, though she never expects one. "Their parents have enough going on, they don't need to worry about that gesture," she says. "But when I do get one, it really touches my heart."
Knitting hats, and shopping at the thrift store, are the ways Jodie says she can give back for the blessings in her life. And basic human kindness, she adds, has a trickle-down effect that can change entire communities forever. She saw that exemplified in her stepfather, Charlie Patterson, who her mother married when Jodie was in high school. He demonstrated kindness and love to not only her but everyone in their family and community. "He was the type of person that, if you asked for the shirt off his back, he would give it to you right then and not ask why," she recalls.
He passed away from cancer several years ago and the hats she knits now include a tag that reads, "For the love of Charlie."
"He was a wonderful man," she says. "When my mom married Charlie, everything changed. He came into our lives when we needed him most. I owe him a lot and this is one way I can keep his name alive."
She pauses. "It's one way I can support other people."
Jodie is an incredible testament to the impact that generosity can have. Let's talk about how we can help you spread your generosity in the community you love. If you have a dream for your hometown, we're here to help you do that easily through your giving. Contact us at JGibb@YourGCF.org today, or give us a call at 309.344.8898.