Jamieson Community Center's Executive Director, Nancy Mowen, knows the food needs of Warren County residents first hand. With 78% of Warren County residents eligible for SNAP assistance, Nancy's team is working to provide healthy food through their pantry to impact change toward healthy dietary habits, ultimately affecting the overall health of their community.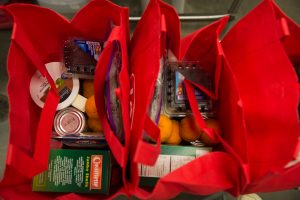 Thanks to generous community members who give to the Community Foundation's Impact Fund, Jamison Community Center received a Competitive Grant to host a series of events called, "Healthy Meals on a Budget." The evening class is open to any and all community members and includes a cooking demonstration, the recipe and groceries for the attendees to take home and prepare for their own household. "Healthy Meals on a Budget" is a great example of the work that can take place when generous donors give to their Community Foundation, which then, in turn, allows for opportunities such as Competitive Grants to be made that benefit the people who call our region home.
Mowen said, "Once community members come and see what we do during these events they're hooked. We talk about what their needs are and what they want. Plus, our recipes are five ingredients or less and we've worked with a dietician to help us make the meals more healthy."
Susan Swift of Monmouth has attended a few of the evening meals and said, "I've made a few of the recipes for company and they really enjoyed it. I tell everyone I know about these events and hope they'll come too. I try to eat healthy, but it's hard. I worked nights for many years, which lead to me having Type II Diabetes, so I really have to watch what I eat. I plan to continue to come to these events."
Healthy Meals on a Budget aims to combat a statistic from Feeding America's Hunger and Health 101 that states, "The cycle of food insecurity and chronic disease begins when an individual or family cannot afford enough nutritious food."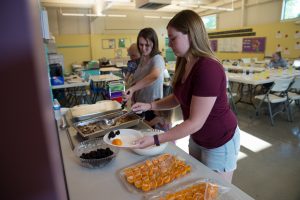 Mowen said, "Once people come to these classes they are hooked. We're talking about what attendees want. And we believe by doing these events consistently, we'll draw a bigger crowd every time."
Jamieson Community Center's goal is to have 15 families attend the class each month and be not only a part of the cooking demonstration but also to take the necessary ingredients home to make the recipe there too.
Mowen noted the importance of this project by saying, "People only know what they know. And unless they are introduced to something different, they are likely to continue in current patterns, With that in mind, we will continue working with families to incorporate healthier foods into their diets."
To learn more about Galesburg Community Foundation's Impact Fund, Competitive Grants or Jamieson Community Center's program, please call Galesburg Community Foundation at 309.344.8898.