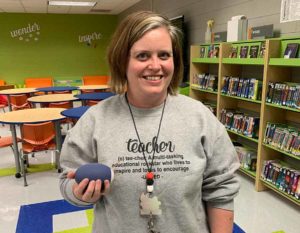 In Knoxville, junior high students are using pocket-sized computers to solve real-world problems in Katie Frey's STEM (science, technology, engineering, and mathematics) class. In Alexis, elementary students at United North are being exposed to other cultures through instruments in Ashley Bushong's music classes.
These opportunities—and many more—are possible through mini grants teachers from the two districts have received from their respective Community Funds.
The Knoxville and Alexis Community Funds were established by local residents and built with gifts from community members, businesses, service organizations, and other sources. Community Funds, which are endowed funds of Galesburg Community Foundation, are guided by a local advisory board that is empowered to award grants that positively impact their communities and residents.
"We know that education through our public school system is vital to Knoxville," said Chris Hroziencik, chair of the Knoxville Community Fund Advisory Steering Committee. "Our community members are the heart of this process—and that certainly includes our teachers and students."
This is the second time that Frey has applied for—and received—a mini grant for her Knoxville STEM classroom. "Technology is always changing and upgrading. For our STEM class to be meaningful, we need to provide the most current resources and opportunities for our students to practice coding and collaborative skills to prepare them for their futures."
In addition to Frey's STEM class mini grant, five other teachers received funding for equipment and projects in Knoxville:
Sarah Hilman, who teaches kindergarten through second grade special education, received an iPad app and manipulatives and games that can be used in the classroom to allow students to work at an individualized pace on skills that are tailored to them. The app will also allow teachers to see where students are struggling and provide additional reteaching opportunities.
Maria Taylor, family and consumer sciences teacher at Knoxville High School, teaches a series of classes on working in the food industry, food and nutrition, and catering. The mini grant is being used to supplement the budget for the food needed to complete lesson plans for four classes.
Kaelee Potter's life skills classroom runs a beverage shop for staff at Mable-Woolsey Elementary School. Through the mini grant, they will receive a new refrigerator that will allow them to expand the offerings of the shop and develop vocational skills essential for the independent success of students.
Students in Jennifer Recchio's Knoxville High School chemistry class will receive equipment that will help them explore alternative forms of energy by cooking with solar energy, building a solar powered model car, designing a water wheel that produces hydropower, generating wind power with a turbine, and fermenting biofuel.
Students in Amy Hopper's junior high STEM class will receive equipment that allows them to navigate the design process with digital tools to produce goods and services for their peers and community.
In addition to Bushong's instrument mini grant, two other teachers received mini grants in Alexis:
In Trinette Olin's fifth grade science class, students will learn about ecosystems, food webs, and the scientific method through the dissection of owl pellets purchased through a mini grant.
Students in Mindy Murray's grade 3-5 special education classes will receive learning games and activities centered around reading comprehension, phonics, and math skills needed to progress in the areas they are behind in.
Learn more about the Knoxville Community Fund and Alexis Community Fund.